Cloudsmith celebrates being honored with two prestigious G2 awards: "Best Relationship Summer 2023" and "High Performer Summer 2023". Discover how our commitment to exceptional customer service and a best-in-class software supply chain management platform earned us these badges.
We're excited to share some fantastic news! Thanks to the unwavering support and positive feedback from our incredible users, Cloudsmith has been honored with two prestigious awards from G2: "Best Relationship Summer 2023" and "High Performer Summer 2023". These reflect our commitment to delivering exceptional customer service and a best-in-class software supply chain management platform.
Cloudsmith: A High Performer with Best-in-Class Relationships
Our users have shared their experiences with Cloudsmith on G2, contributing glowing reviews through and through. Their invaluable feedback has led to this recognition, and we are committed to continue to provide excellent developer experience and support to everyone. We believe that our users are the heart of our platform, and these awards are a testament to the strong relationships we've built with them. We're dedicated to maintaining this high level of customer satisfaction and will continue to strive for excellence in all our interactions.
Our goal has always been to equip our customers with the tools they need to manage their software supply chain more efficiently and securely. Seeing our customers succeed and grow with our platform is the most rewarding part of our work.
What Sets Cloudsmith Apart?
You might be wondering what makes Cloudsmith stand out from other software supply chain management platforms. The answer lies in our deep understanding of the complexities of managing software assets, while always putting the developer experience at the forefront of everything we do. We understand that no two teams work the same, and flexibility and scalability are two core tenants of how we operate. We believe in a human-first approach to software development, with our own engineers always at hand to help when needed.
Cloudsmith is more than just a software supply chain management platform. It's a solution designed by developers, for developers. We've taken our firsthand experience and used it to create a platform that addresses the unique challenges developers face. From managing dependencies to ensuring secure distribution, Cloudsmith is designed to be the source of truth for software everywhere. We like to think we are more than just a tool; we are part of your journey to building amazing products.
We are here to empower teams to deliver software faster, without restrictions of managing different asset types, while remaining scalable and cost-efficient. From source to delivery — with complete trust, control, and security. We're committed to providing a platform that not only meets the needs of today's developers but also anticipates the challenges of tomorrow.
A Big Thank You to Our Users!
We couldn't have achieved this without you! The feedback we receive from users on G2 is invaluable to us. It gives us great insight into what we are doing well and how we can improve. We're always looking for ways to enhance our platform and services, and your feedback is a crucial part of that process. Every review, every comment, every suggestion helps us shape Cloudsmith into a better platform.
Here are just a few of the brilliant reviews from our users on G2 that make us feel proud:

"For us, it's a developer first platform. That means that you have clear, full documentation and mostly every single edge case you could think of out of the box. For those questions or things that seem a bit unusual, a quick chat with support results in either resolution or a feature request which is properly considered and often makes it into the platform."
"It is so easy get started with the tool! There is a description for every feature and even for 3rd party tools that just work with cloudsmith. You also have a very clear and structured overview of your repositories and packages. It works great with different package managers."
"Cloudsmith is easy to use, has comprehensive features we need and has excellent support from the Cloudsmith team."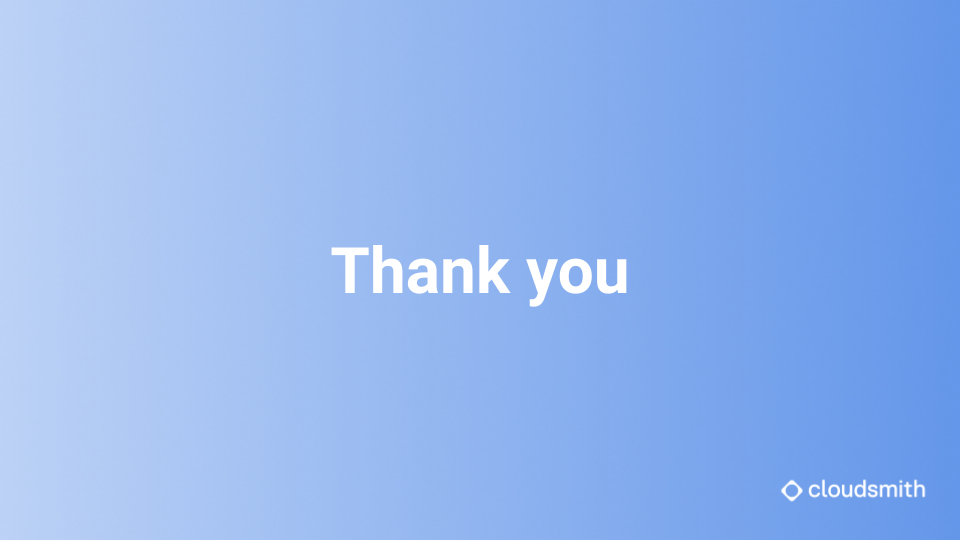 On behalf of all of us here at Cloudsmith, we'd like to extend a huge thank you to our incredible customers for their continued support. Your success is our success, and we're excited to continue working with you to make software supply chain management as efficient and secure as possible.
Be sure to head over to our profile on G2 to see other reviews that customers have left for us—or if you're in the mood—why not leave one yourself!
Looking Forward
As we celebrate these achievements, we're also looking forward to the future. We're committed to continuous improvement and innovation, and we're excited about what's to come. We'll continue to listen to your feedback, enhance our platform, and provide the exceptional service you've come to expect from us.
We're not just looking at the next quarter or the next year; we're looking at the next decade. We're committed to staying at the forefront of software supply chain management, anticipating the challenges of the future, and providing solutions that meet those challenges head-on.
Thank you for choosing Cloudsmith. Here's to more success together! We're excited to continue this journey with you, and we can't wait to see what the future holds.