We've had an incredible amount of growth over the past year, both as a service and as a business, establishing ourselves as a best-in-class solution for Cloud-based Package Management, and you've played a huge role in helping us get there. We couldn't have done it without your support. Thank you so much!
As Cloudsmith has evolved we've added deeper and broader value across our service, all based on the needs you've told us about, while still adhering to our ethos of being simple, managed and secure, by default. Throughout this time our pricing has remained largely static and unchanged.
Cloudsmith is built by engineers, for engineers; and there is nothing we want more than to make the best Package Management service the world has to offer. Pricing still matters, of course, as we re-invest our revenue back into making the service even better. Every cent earned is a cent that empowers and develops Cloudsmith.
So after years of research, development, communication, effort and emotional toil, we're extremely proud to announce new pricing that is adaptive and flexible, while still offering world-class value. With the new plans comes new scope for exciting new developments; changes that will benefit every single user.
So without further ado, drum-roll please; here are the new plans for Cloudsmith ...
---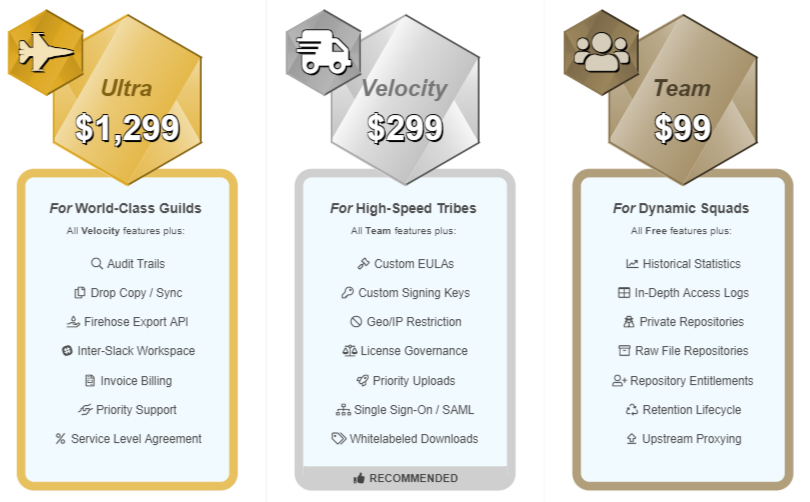 The new plans are designed to help new users select their most relevant persona and give maximum value of the ever-expanding feature range we support.
Team is for individual teams and small companies, who need best-in-class Package Management.
Velocity is for multi-teams and scaling companies, where extended visibility and controls are also needed.
Ultra is for larger (or stricter) companies where deeper capability for compliance, support and service guarantees are mandatory.
Please see the pricing page for further details.
Due to (extremely) popular demand we have introduced a Service-Level Agreement (SLA) guarantee for Ultra+ plans. Please note the Terms and Conditions have been tweaked to support SLA. We'll also be introducing annual-based pricing, as well as additional tweaks to make account management even easier.
It is important to us to say we are extremely proud to have every individual that uses Cloudsmith and derives value and that will never change; no matter what plan you're on, we'll do our best and work our hardest for you.
Happy packaging as always!